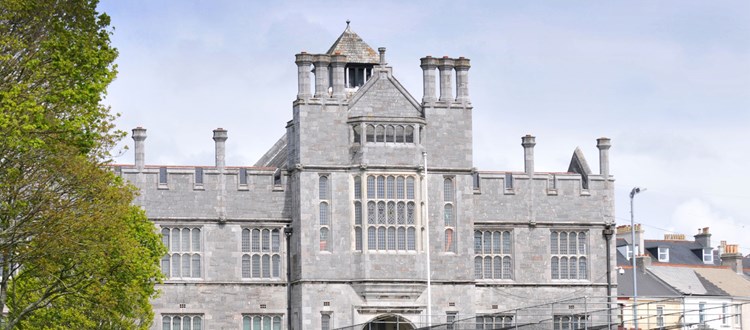 According to several leading researchers, including Dylan Minor at Northwestern University's Kellogg School of Management, the people you work with and live with have a massive impact on your own individual performance. At Plymouth College, the success of our high-performance athletes both in and outside of the classroom has the effect of inspiring all of those studying alongside them.
From left to right, James Watson (Plymouth College swim captain), World Champion Ben Proud (alumnus, swimming for England), Isobel Wild (Plymouth College swim captain), and Katie Kyle (swimming for St Lucia).
It is this positive atmosphere, combined with a team of dedicated coaches, teachers, boarding staff and a whole raft of support staff which allows young high-performance athletes to achieve their dreams both inside the classroom and in their relevant sports. With the forthcoming Commonwealth Games – taking place on the Gold Coast, Australia – on the horizon, to this date, three present pupils have been selected to represent their respective countries in the swimming pool, an impressive achievement for pupils so young in this sport. Katie Kyle, age 15, will swim for St Lucia, while Erico Cuna and Stefano Mitchell, both 18, will represent Mozambique and Antigua, respectively. Some nations are still considering their options, so it is possible that this number may further increase.
Erico Cuna will represent Mozambique at the Commonwealth Games
Using the school's unique relationship with top class swimming club Plymouth Leander, former pupils  (or OPMs) can continue to be coached by the same dedicated team when they leave school and enter further education. This has led to an additional four pupils being selected to represent England, all of whom left the school in the last 5 years. World Champion and British record holder Ben Proud is aiming for double gold on the Gold Coast, as he competes in the 50m freestyle and butterfly. He is joined on the national team by Laura Stephens, age 18, who only left the school in 2017, and who is looking at adding to the medal she won in the European Championships after being crowned British Champion in Sheffield in December. Jessica Jackson and Tom Fannon, silver medallist at the British Championships last year, complete the lineup in the pool. They are joined on the England team by Plymouth-born former Plymouth College pupil, World Champion, Olympic medallist and FINA male diver of 2017, Tom Daley. In addition, OPMs from elsewhere in the Commonwealth will join their former classmates from countries all over the world. Elsewhere in sport, OPM Henry Slade, Premiership Champions Exeter Chiefs' player, has been a regular member of the England team in recent times, with Myles Pillage, Head Boy of Plymouth College who left the school in 2016, claiming his first Modern Pentathlon World Cup medal in March and James Burke and Jake Libby playing professional cricket for Surrey and Nottinghamshire respectively.
But sport itself does not tell the whole story about the success of such talented pupils. Victoria Vincent, the British Emerging Diver of the Year 2016  and youngest member of Team England at the Commonwealth Games in 2014, Ben Andrews, British Youth Fencing Champion and No 1 in the GB Cadet Epee Team, and Georgina Mitchell, U19 GB Pentathlete achieved 16 A*s between them in their GCSE exams last summer.
Laura Stephens is an alumna of Plymouth College
So what is it about the school that nurtures such talent and allows pupils to achieve at such a high level? Robin Armayan, the school's Director of Swimming since Jon Rudd's departure in January 2017 to become Performance Director of Swim Ireland, sums up the ethos allowing such success. "The right balance between academics and swimming is crucial for the athlete to optimise their long term potential. Although we leave no stone unturned to find out how good each athlete is, we believe that high standard academics are the top priority. The 15 years of experience  looking after athletes/pupils combined with our long term outstanding results allow us to provide each individual with a healthy, competitive and friendly environment." The school's team of outstanding coaches includes: Robin Armayan; Roberto Pavoni, European Silver medallist and Olympian; Anthony James, former GB swimmer and Olympian; Rob Flack, former GB pentathlete and Pete Barrett, former GB fencer and National Coach. These coaches give the athletes the expertise, confidence and guidance they need to succeed. This, combined with a school that celebrates success across the board with its family feel, small classes, incredibly supportive and dedicated teaching staff and a boarding environment and pastoral care that nurtures and supports, enables pupils to really blossom and achieve. As Victoria Vincent, now in Year 12 and still competing at the highest level says, "Regularly missing well over a day's worth of academic study per week would have had a significant negative impact on my grades if it had not been for my teachers sending me the work that I missed, as well as offering to teach me the content that I did not understand. Without this, I would not have achieved the results
that I did at GCSEs, nor would I have learnt the level of time management that I have now obtained. For this, I will always be grateful."
Ben Proud, Director of Sport Mr Phil Mutlow and Deputy Head Mrs Jo Hayward
The success of these young people is a huge tribute to their own hard work, determination and dedication and, for Plymouth College, continues a long tradition of helping young people achieve ambitions in which ever field they choose.
Many thanks to Mrs Jo Hayward, Deputy Head of Plymouth College, for contributing this article! Also check out our interviews with Mr. Phil Mutlow, Director of Sport at Plymouth College, here: https://vimeo.com/221088436 and Robin Armayan, Director of Swimming and Head Coach at Plymouth Leander, here: https://vimeo.com/221199505
Credit: Swimspire