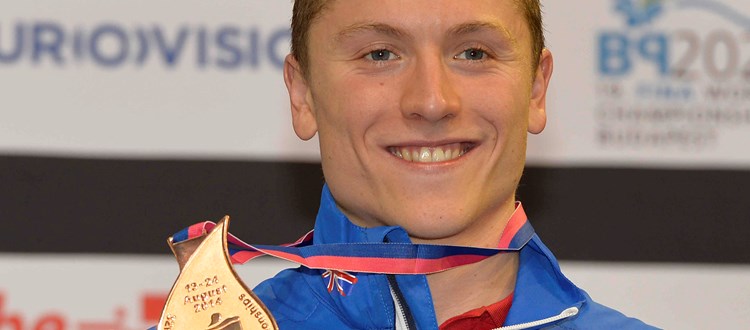 Credit: www.pullbuoy.co.uk
All my focus at the beginning of 2016 was just to make the Olympic team. I had no real thoughts about what was coming afterwards, I was just putting everything I could into training and preparation to race well in April, make the Olympic team and then go from there. I wasn't saying to myself I was going to swim for another four years, eight years or I'm going to quit tomorrow, it was just everything possible to make the team and then worry about it afterwards.
There's always that side of you thinking I'm going to have to swim really, really well just to get on the team, but at the same time there's no other option. You're not thinking what happens if I fail, you do everything possible in your power in training every day and when you get to the race itself, you're just you, just focusing on that race, trying to get the best possible time, the best possible position and hopefully you book your place on the team.
When I finished the 200IM and I'd missed the qualifying time there were a lot of mixed emotions; it's hard to pinpoint one exact emotion although obviously there was huge, huge disappointment. I felt really disappointed for not just myself, but my whole team. There's a lot of people behind the scenes who work extremely hard for us; our coaches and support staff around them, our gym coaches and physios but also parents who do the whole journey, other family and my girlfriend and people like that and that's a lot of people willing you to do well. So when you don't quite get there whether it's a bad performance or you just don't get the time your first thought goes to those people who have been on your side and you feel like you've let everyone down, even though deep down you know you haven't let them down, you know they just want you to do well.
Then shortly afterwards I went to the interviews because I had won the race and I think it was Nick Hope from the BBC who asked me what's the plan now? And I didn't really have a clue. Everything had been geared towards making that team and what came next would have to be decided in the following weeks and months.
We joke about it with my friends now, but there were weeks where I pretty much was just wallowing in my own self-pity. I'm sure there's a lot of people who have been in that position who did the same. I was just thinking, what's the point? What do I do now? What's coming next? Is anything ever going to be the same again? Then after a few weeks you get to a point where you have to pick yourself up and get on with life. And at that point I wasn't ready to finish swimming, I thought there was still more to give, I still wanted to carry on going, I didn't want to finish my career on such a low note. I thought, right, I'll have a few months off, I'll train lightly just keeping fit and then I'll start again next season.
I was also thinking about not being on funding, and not having been funded for two or three years; I was putting a lot of strain on my girlfriend because she had been supporting me. So I had to think about getting a part time job, with the idea of training around that. I love coaching, I love giving back to younger swimmers and I managed to get a part time job as head coach at Loughborough Town Swimming Club for a few months while I was deciding what to do. I then did go back to training, not full time, but some really good effort training all the way up to November of 2016.
But I wasn't quite up to full speed in training and it just didn't quite feel the same even though I was enjoying it for the most part. There was this doubt over what I was aiming for and although I was loosely thinking I wanted to get to the world championships, it didn't quite feel the same because previously I was trying to get to a second Olympics and then trying to make a final at the Olympics which I had never done before. This time around it was difficult to motivate myself and push myself to those levels when I didn't really believe I could do any better than I had done in the past. And then I was enjoying the coaching a lot. I had a great time at Loughborough Town and really enjoyed coaching some young swimmers to county and regional level, and that got me thinking that there was more to life than my own swimming.
I like to keep things to myself, especially with those kinds of decisions. I felt like it was my own decision to make and I didn't really discuss it with many people other than my girlfriend who was watching me go through that tough time. I was almost forcing myself to go to training at that point because I didn't want to give up and then regret it, even though I knew I didn't want to go. It was about being happy at the end of the day. But I didn't really bring it to the attention of British Swimming or my coaches or even my Mum or Dad to be honest. I just wanted it to be my decision; I didn't really want to be influenced by too many others because although they're heavily invested in what you're doing they're not the ones who getting up every day to go to training and pushing themselves to the limit. No one really knows except you when your body and your mind has had enough of that. Once I had decided to call it a day I then spoke to my coaches and they were very supportive and they obviously said whatever they could do to help they would.
In some ways it may have been a lot easier to finally make that decision because I knew that I had something that I was passionate about to fall back on. I had that sort of six-month transition period where I figured out that I would be enjoying coaching so it wasn't a case of retiring from swimming and then quickly having to find something I enjoyed doing. I knew I had that to fall back on. But at the same time it was such a difficult decision to make and I found that one day I'd be so up for it and I'd go to training and I'd think yeah I can do this, I can get to World Champs next year everything is going well, and the following day I'd feel like, I don't know if I can do this, I don't want to do it anymore, is this the right option and am I just hanging on because I've had a disappointment? It ebbed and flowed like that for quite a while.
I never really thought that I would do anything other than swimming, swimming has been a huge part of my life. But also I feel when you're in the elite you have to be really quite selfish and there's a lot of times when you have to put yourself before other people and I kind of got to that point at the end of my career where I was thinking I really wanted to give some of my time and knowledge and experience that I've got back to some younger swimmers. I know for a fact when I was 12, 13 if I'd had the opportunity to be coached by an Olympian I would have just absolutely loved it, I would have jumped at that opportunity. So I feel good if I can inspire some of the younger swimmers in that way or at least give my time, my experience and my knowledge back to the people that I'm coaching now at Plymouth.