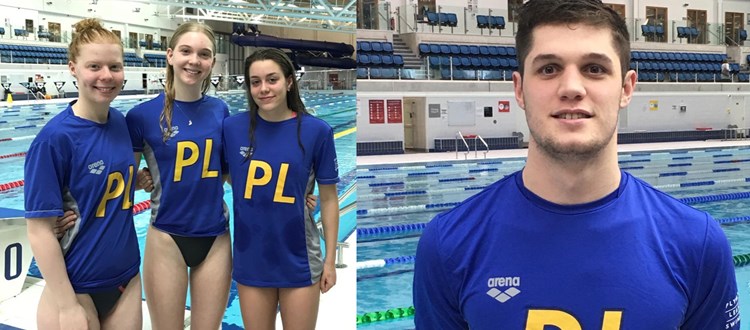 Plymouth Leander is delighted to celebrate the selection of four of its athletes to represent Great Britain at forthcoming international meets.
Honey Osrin (16) has been named as part of the GB squad for the World Junior Championships in Budapest, while both she and her club mate Sophie Freeman (15) are included in the British junior team announced today (Friday) for the European Junior Championships in Russia.
The girls are both Plymouth College pupils and have been called up after impressive performances at the British Championships in Glasgow last week.
Meanwhile, butterfly specialist Laura Stephens (20) is among a 25 strong senior Great Britain team announced on Wednesday for the World Championships in South Korea this summer. She swam a lifetime best and world top 10 time in the 200m butterfly last week to put herself in contention for selection.
She joins reigning 50m butterfly world champion Ben Proud - who now trains in Turkey but still represents the Plymouth club.
For Honey and Sophie this is their first call up for Team GB. It's also Laura's first long course senior meet for Great Britain.
Adding to this week's success, last night (Thursday) PL para swimmer Reece Dunn, in Glasgow this week for the para British Para Swimming International Meet, broke the men's S14 100m freestyle world record (subject to ratification) with a 51.92 seconds swim.
For the club, and Head Coach Robin Armayan, it's been an amazing few days.
"PL had an inspiring week at the 2019 British Championships," he said. "Our results showed, once again, the depth in strength we have but also the great results of a successful partnership between the club, Plymouth College and Plymouth University.
"The highlights of the week were the GB selections for Sophie Freeman at the European Junior Champs, Honey Osrin selected for the European and World Junior Champs and Laura Stephens who has been selected for the World Champs.
"After winning the Arena League for the 9th time those results are extremely encouraging and all our athletes are ready to work even harder to perform at their best this summer."
Laura is very excited to be representing GB (and PL!) at the World Championships.
"It always makes those early mornings just slightly easier when it pays off like this," she said. "Thank you for the continued support from the club.. having such a strong team behind me is so important and certainly part of the reason I managed to make the selection!"
Honey, who won four junior finals at last week's British Championships, is equally delighted. "Being selected to represent GB at the European and World Junior Championships has been a really big goal of mine for the past 2 seasons," she said. "I've been working really hard in the pool with my coach Robin and in the gym with Paris Payne. I'd also like to thank Plymouth College who have supported me all the way."
Sophie, who is coached by former Olympian and now PL coach Roberto Pavoni, says she's really looking forward to racing at European juniors. "It's a huge step up from what i'm used to," she said. "Coming to Plymouth College and Leander in September has been a massive change for me but has allowed me to take the next step in my academics and swimming. A huge thank you to the team and to Roberto."
Roberto Pavoni said: "Sophie has worked incredibly hard throughout the season and deserves the success she has achieved last week. Her dedication and commitment to the programme has resulted in her fantastic selection to the Great Britain team for the European Junior Championships in the summer, which will be an amazing opportunity for her to experience an international level of competition."
David Ellis, chairman of Plymouth Leander, has praised what he describes as a "great achievement" all round. "It's testament to the hard work and dedication of the athletes and coaches involved," he said. "These swimmers are an inspiration to our younger members who will be cheering them on as they represent Great Britain this summer."
Jonathan Cohen, Headmaster at Plymouth College, is full of praise for these achievements. "It is absolutely fantastic to see such incredible results and consistent excellence from Plymouth College pupils," he said. "This emphasises our strong relationship with Plymouth Leander, and our leading swimming programme continues to provide excellent coaching alongside a first-class education.  The athletes have worked extremely hard and completely deserve this recognition. Their results are an inspiration for our athletes currently within the College, demonstrating what can be achieved through hard work, determination and the right environment for success"