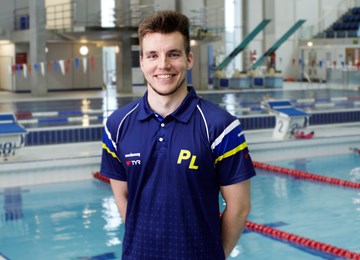 Stephan Lokhorst
Assistant Head of Regional Age Group Squads
A butterfly specialist, Stephan swam himself from the age of 8 to 20, competing at a national level.
He joined PL from the Netherlands where he was a national level head coach for five years and gained his level 4 coaching qualification.
Stephan now coaches our regional and county swimmers - he describes them as a "great group of young and motivated swimmers".
"It's great to be a part of the swimming programme at Plymouth Leander which is such a high standard with a lot of talented swimmers," he said.
My aim is to help them achieve and work towards their goals and at the same time enjoy the sport of swimming. The great thing about Plymouth Leander is that everything is in place to achieve these goals, from qualifying for the Devon County Championships to performing at an International level - the Worlds or the Olympics.
qualification
Level 3 and 4 coaching qualification by the Royal Dutch Swimming Federation.
experience
Around the age of 8, I started competitive swimming and swam until the age of 20, competing to a National Level. My main events were the 50 and 100 Butterfly.
Personal Interests
I like to read books in my time off, watch NBA basketball and to work-out at the gym.