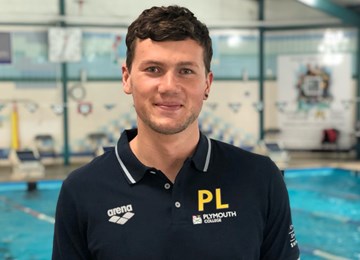 In his own words, Sonny is a swimming enthusiast and has been obsessed with the sport for as long as he can remember. Alongside coaching, he was - until Covid - still swimming at a high level, having raced at both the British Summer Championships and English Winter Championships (2019) and was training for the Olympic trials in 2020 when they were cancelled. His swim training was fitted in in spare time around work commitments.
Sonny's coaching journey began when he was just 15 as a volunteer at his local disability swimming club Colchester Phoenix.
He later joined Team Ipswich, as Assistant Coach, working with the club's top athletes alongside Olympic coach Dave Champion - which proved a great learning experience.
Sonny has recently returned to the UK after three years coaching at BSM Marlins in Oman where, when Covid struck, half of his squad of teenagers were expected to reach British or home nations summer meets had the season not been cut short. 
"A swimmer needs to want to be there and I try to create that environment," he said. "I think it's a shame to have seen so many elite swimmers leave the sport in their late teens and early twenties. I am a big believer in not having any compromise - both in and out of the pool - be it in work ethic, concentration or attention to detail, everything matters..... but this should not come at the expense of enjoyment."
I coached myself for three years and qualified for both Olympic trials and British summer meets.. training alone and writing my own programme - feats I could not achieve when training full time at Team Ipswich!

I am a massive swimming nerd and would like to think I am forever learning!  I love the top end - watching the championship meets and breaking down a world record while also just seeing the joy on an age groupers face when they get a new massive PB!
qualification
Level 2 Coaching Aquatics Award
Level 2 fitness instructor 
National Pool Lifeguard 
experience
Qualifying for Olympic trials 2020 
British and English National Championships
Personal Interests
As well as swimming, Sonny has competed in BMX Cross, table tennis and skateboarding. 
He also loves travel, adventure and Scuba diving!