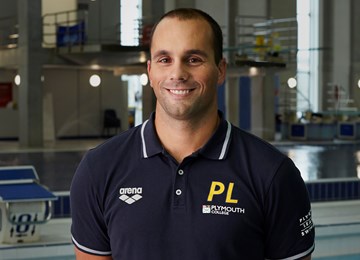 Robin has been the Head Coach of Plymouth Leander and the Director of Swimming at Plymouth College for over three years. He has coached many swimmers at international level and regularly has swimmers selected for Great Britain. Originally from Bordeaux in France, he joined Plymouth Leander as Assistant Head Coach in 2014 before taking his current position in February 2017. Robin started coaching age group swimmers in his native France in 2005 before moving to Australia to learn more about high performance coaching. From there his career brought him to England and the position of Head Coach at Poole Swimming Club - a role he held from 2008 until his move to PL. Although he mainly coaches youth and senior performance athletes, Robin spends a lot of time working with the PL coaches to help them develop the younger swimmers at every level and throughout the club's pathway.
We have a strong focus on technique to give our junior swimmers the best long term potential possible. I believe we need to try and make our swimmers stand out and set them apart from the rest - a combination of fast and skilful swimming is hard to come by.
qualification
I am a level 3 coach with 13 years of coaching experience. I have coached in France, Australia and England.
experience
I joined a swimming club in Mérignac (near Bordeaux, France) after dad convinced me to give it a try. I swam there for 15 years and my coach also became my first mentor when I started coaching.
Personal Interests
Outside of swimming, I enjoy spending some time with my family, surfing with my mates and listening to some music at the back of my converted van. I also play a little bit of guitar and have a strong interest in literature.