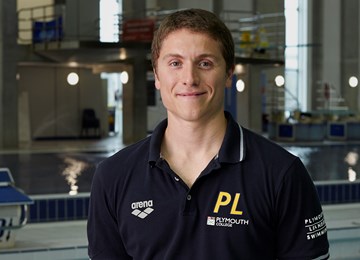 Roberto is a former Olympian for Great Britain and coached at the Great Britain National Performance Centre before joining PL.
Roberto is from Essex and has been involved in swimming for most of his life. He has recently retired from his own competitive swimming career - having won three European medals and swum in front of a home crowd at the London 2012 Olympics. Roberto now hopes to transfer his experience of swimming at the top level to members of his squads. "It is a huge honour to be coaching at Plymouth - a club which has been at the forefront of UK swimming for so long," he said. "I still remember racing against Plymouth Leander swimmers at my first National Championships at 11 years old (most of them beat me!!).
"I started training in my home town of Brentwood, Essex when I was about 7, and first raced competitively at the Essex Counties at 9," he recalls. "From there I moved to Australia when I was 16 to be part of the British Swimming Offshore Centre where we boarded at a school on the Gold Coast. When I was 19 and the programme finished, I moved to Loughborough to train at the National Centre and I remained there until the end of my competitive career."
Roberto coaches our national squads  - made up of swimmers who compete at English and British National championships level. His aim is help his swimmers develop all aspects of stroke technique, fitness levels and racing skills to prepare for performance championships throughout the season.
Having only just finished my own competitive career, I am excited to give something back to the swimming world. My motivation and aim is to inspire the swimmers of Plymouth Leander to reach their full potential, whether that be achieving a personal best time, or winning medals at the National Champs at beyond. 
qualification
ASA Level 2 Swimming Coaching
Level 3 Personal Training
experience
My own competitive career only finished in 2016. My proudest achievements were winning my 3 European medals in 2014 and 2015 and also representing Great Britain at the 2012 London Olympics. I swam 200, 400 IM and also the 200 Butterfly!
Personal Interests
I love sport in general!