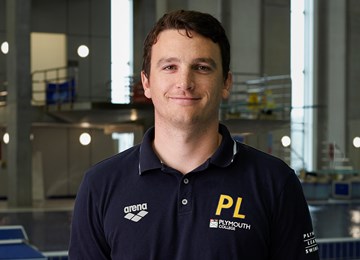 Neil swam competitively between the ages of 9 and 18 competing at regional level. He's returned to the pool from time to time as a masters swimmer, winning two national masters medals.
Neil came to PL from Oldbury in Birmingham where he was Head Coach. Until recently he was responsible for our younger junior squads but now heads up our regional programme
"We have a strong focus on technique to give our junior swimmers the best long term potential possible," he said. I believe we need to try and make our swimmers stand out and set them apart from the rest - a combination of fast and skilful swimming is hard to come by.
"From my experience of being a swimmer, I know it's important for these young swimmers to have someone who really cares about what they are doing and how well they are doing, someone to keep them focused and on track and someone who will help them reach a level they wouldn't be able to on their own."
Neil has loved the move to Devon which not only brings him to a big club with a big reputation but allows him to indulge in his passion for surfing!
The swimmers here are so motivated to do well. It gives me a buzz to see their faces after a performance where they have got their skills right, executed what they have been practising in training and had an all round great swim. I like seeing the development of the kids when they realise how important a certain aspect of their swimming is and then over time you can see them work hard day in day out and see them improve. I enjoy helping swimmers understand the important stuff and watching them learn and seeing the time when it clicks is really great. 
qualification
ASA level 3 Coach
National Pool Lifeguard Qualification
Child protection and safeguarding
experience
I swam competitively between the ages of 9 and 18. Then after some years out of the pool I started to compete again as a masters swimmer and still do from time to time. I swam to a regional level and have 2 medals from National masters.  Winner of the first PL coaches race in 2017!!
Personal Interests
Surfing, paddleboarding, cycling. I love being outdoors, in the countryside and by the sea, and that's why Plymouth was a great place to move to - somewhere I won't be looking to leave any time soon.