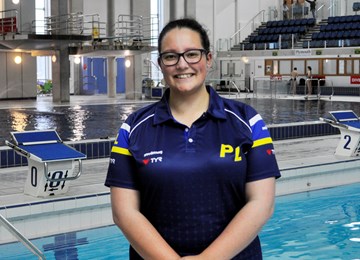 Ellie Kerslake
Junior Coach
Coaching was a natural progression for Ellie after a successful swimming career at a national level.
"I started swimming when I was 7 years old at a small club called New Milton Torpedoes," she explains. "I then joined Seagulls Swimming Club where I became 16 yrs South West Regional Champion in 200 and 100m Backstroke. I moved to Swim Bournemouth to pursue my swimming career further - achieving Nationals two years in a row in 50, 100 and 200m Backstroke and qualifying for the Commonwealth trials in 50 and 100m backstroke in 2014. Unfortunately, I injured my back when training, 1 month before trials which meant my swimming career had to come to an end, but opened up a new chapter in coaching."
I've always had a passion for coaching. Even when I was at school, I was helping my PE teachers teach my year how to swim. My motivation comes from seeing the young swimmers enjoy themselves and have fun in the pool. But also, watching them progress and achieve is what makes coaching worthwhile.
qualification
Level 1 and 2 in Teaching Aquatics
Level 1 and 2 in Coaching Swimming
experience
South west regional champion in the 200m and 100m backstroke at the age of 16.
Ellie qualified for the Commonwealth trials but was forced to retired from competitive swimming due to injury.
Personal Interests
Baking: pizza's, cakes and brownies (which Robin, Head Coach) LOVES!!!