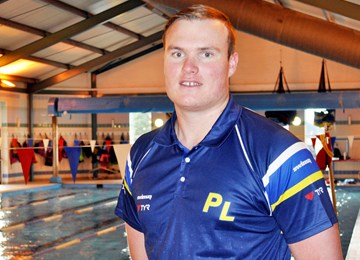 Chris Lee
Lead coach of County Development and assistant coach for National and Regional Development
Swimming has been a huge part of Chris's life since the day he was born;  even more so since he moved to Plymouth in August 2012. Coming from a tiny club in Andover where he was the sole competitor,  it was a huge jump to join Plymouth Leander - but it allowed him to combine university studies with developing his swimming further.
"Over the last few years, swimming has become my life and now coaching is a career I want to pursue," he said. "Being able to inspire and affect the lives of the younger generation is something that really motivates me. Having the chance to work with children and young adults and see them reach their goals is an excitement and feeling that will never go away."
Chris now helps coach PL's juniors - from those training for their very first competition right up to swimmers competing at regional and national level.
Being able to inspire and influence youngster as they grow up and helping them to achieve their goals.
qualification
Level 1 coach, looking to do my level 2
experience
Reached multiple county and regional finals as a junior in Hampshire and Andover Swimming Club Captain (2011 and 2012). ESSA national schools finalist. Joined Plymouth Leander in 2012 and reached the finals of many county and regional finals as well as being a nationals finalist in 2015 and 2016.  
Personal Interests
Chris has played tennis competitively at both junior and senior levels as well as coaching juniors and adults. He competed in water polo at both county and regional level. He was awarded a sports scholarship while at Plymouth University. He also has a degree in architecture!