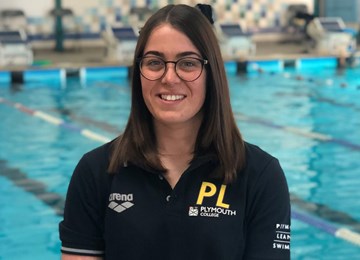 Ashleigh has extensive experience as a national level swimmer reaching finals at both junior and senior British Nationals as well as medalling at the Scottish Summer Meet, Scottish National Age Group Championships, North West Regional Championships. She was Cumbria County Captain for the North West Regional Inter-Association and the British National County Championships.
While studying at Cardiff Metropolitan University, Ashleigh also reached the finals of the British Universities Swimming Championships (2015-18).
"I spent three years studying Performance Analysis at university and have developed a strong knowledge base in that area - but i also have the benefit of  my experience as a former national swimmer both individually and as part of successful teams," she said.
Ashleigh joins Plymouth Leander from West Dunbartonshire Swimming Club where she was Assistant and Development Coach. In 2019-20 she was Assistant Coach with Scottish Swimming's District Regional Programme. 
Alongside her coaching and university commitments, she remained heavily involved at the grass roots level of the sport - working with learn to swim programmes both in Cardiff and Dunbartonshire.
I am versatile and determined with considerable experience of competing at British National level. I also have experience in coaching junior athletes at a regional and national level. I'm looking to gain more experience and develop as a coach at Plymouth Leander
qualification
ASA Level Two Coaching Aquatics
National Pool Lifeguard 
Child Wellbeing and Protection in Sport
experience
Scottish National Age Group Championships - medallist 2011, 2012
NW Regional Championships - multiple medallist 2011-2014
British Summer Nationals 2011-2016 (finalist 2011, 2012)
British Championships - junior finalist 2013
Scottish Summer Meet - multiple medallist 2015
British Universities Swimming Championships - finalist 2015-18