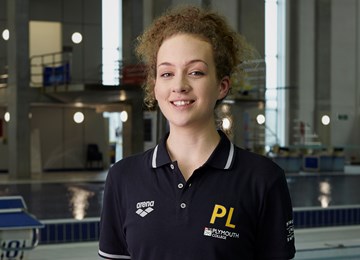 A former elite swimmer, Alicia spent most of her competitive career at Plymouth Leander so understands the pathway through the PL squads better than most. She began swimming at the age of 11 after watching her Nan swim a mile a day to help her recovery from a broken back.
A pupil at Devonport High School for Girls, Alicia made her first Nationals at 14 and went on medal at 15 - with gold in the relay as well as an individual bronze. A year later, representing England, she medalled at the World Student Games. But a dislocated shoulder and subsequent surgery ended her dreams of competition and led to a coaching career instead. Having gained her Level 1 and Level 2 coaching, Alicia joined PL from Devonport Royals and is enjoying having responsibility for her own squads. She has been a skills coach and led the strength and conditioning sessions at the 2018 Devon County ASA Skills Camp.
She is also qualified in sports therapy and injury rehabilitation and has previously managed Plymouth City College Sports Injury Clinic.
"After being forced to give up competing because of injury, it's extremely rewarding to help others improve in the sport.... I have had many great coaches in the past and I hope to bring parts of all of them to the athletes in my squads - while adding my own unique flare! I have experienced the PL pathway first hand - so the club will always hold a special place in my heart"
qualification
Assistant coach and coach - level 1 and 2
Teaching aquatics - level 1 and 2
FdSc Sports Therapy and Injury Rehabilitation
experience
Alicia swam from the age of 11 rising through the ranks of the #bluearmy from juniors to the performance squads. She medalled at the Nationals and, at the age of 16, at the World School Games in Brazil (200m breaststroke). Sadly a year later, injury forced her retirement from competitive swimming.
Personal Interests
Away from the pool, Alicia's life revolves around her dog Bruno! "If he could come coaching with me, he would!" she says.
She's also been working with Exeter Chiefs and Plymouth Albion rugby teams and hopes to have further involvement with the Chiefs as part of her BSc degree in sports therapy and rehabilitation.