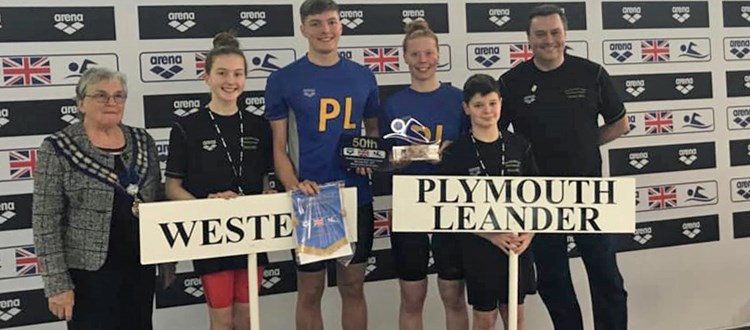 Swimmers from Plymouth Leander won a nail biting final in Cardiff yesterday to become national club champions for the second year running.
Forty five athletes, their coaches and supporters, traveled to Wales for the National Arena Swimming League's 50th Anniversary Cup Final.
The reaction from the swimmers when Plymouth Leander are officially named champions again!
It came down to the last couple of relays. In the end, just 13 points separated the top three teams with Plymouth Leander retaining the title they won last year - beating Millfield into second by 7 points with Guildford finishing third.
PL's Sophie Freeman (15) won the award for top girl in the 15 and under age group.
Head Coach Robin Armayan was delighted with the team's achievement.
"I am extremely proud of the whole team's performance, with each of the swimmers giving 110%, some of them swimming in their first National Arena League final," he said. "The atmosphere as always was electric, Millfield and Guildford were very fierce opponents and made it a very exciting final to swim in," he added.
"The swimmers had to dig deep and perform in every race but the strong team spirit within the group led by Roman Scherer and our supporters in the stand definitely helped us throughout the competition. "With Arena being our main sponsor, PL, Plymouth College and Plymouth Uni are proud to have won the 50th National Arena League final as a united team. "Congratulations to everyone involved including all the swimmers, volunteers and staff."
National Arena Swimming League - 50th Anniversary Cup Final Results
Plymouth Leander 361
Millfield 354
Guildford City 348
Hatfield 276
City of Cardiff 271
Wycombe District 265
City of Oxford 257
Northampton 250
Stockport Metro 237
City of Derby 127
Full results on the National Arena Swimming League website - https://www.nationalswimmingleague.org.uk/watch-the-50th-anniversary-cup-final/live-results/
The event was streamed live by Shockwave Digital on the NASL website.