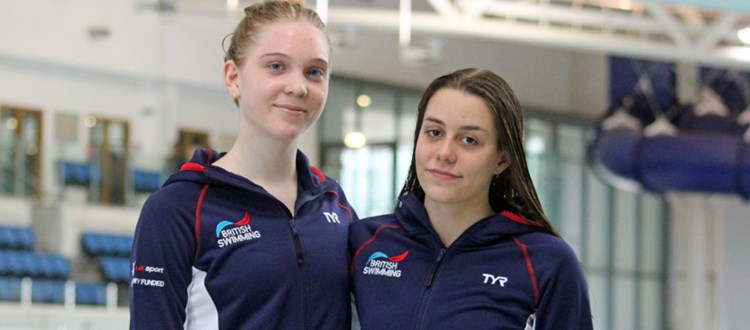 PLYMOUTH Leander swimmers Sophie Freeman and Honey Osrin are just days away from taking part in their biggest competition to date.
The pair will represent Great Britain at the European Junior Championships in Kazan.
Freeman will compete in the 50m, 100m and 200m butterfly individual events, while Osrin will swim the 100m and 200m backstroke and the 200m freestyle. Both are also likely to feature in relay events for GB.
The competition will start on July 3, when Freeman will go in her favourite 200m butterfly event and Osrin in the 200m backstroke, and run through to July 7.
Both say they are excited now that the championships are so close.
"Now that we have got our kit and everything it is becoming more real," said 15-year-old Freeman.
Orsin added: "I am really excited as it is so close to the time now."
Both Leander swimmers are ambitious but know the European Junior Championships will be a learning experience for them.
"I would like to final, but if that does not happened then I just want to enjoy it," said Freeman, who will also compete at the European Youth Olympic Festival in Baku later in July. "I just want to enjoy the experience."
Osrin, who will have the World Junior Championships in Budapest to also look forward to in August, said: "I definitely want to make finals, but I just want to see how it goes. I do want to have fun and enjoy the experience as well.
"This is definitely a stepping stone for me. I think it is going to be a good experience because I have never experienced a meet of this high quality. I think it will help prepare me for the worlds."
Osrin is going to be busy as between the European and World Juniors she will also compete in the National Summer Championships.
"I have nationals in the middle so I am going to have to be training all the way through those," she said. "But I'm sure other people going to the worlds will be doing the exact same thing."
Plymouth Leander head coach Robin Armayan is looking forward to seeing how Osrin and Freeman handle the European Junior Championships.
"It is a great opportunity for them," said Armayan. "They are very young but competing at such a high level at such a young age is something to look forward to. It will give them a first taste of what international swimming is about and it is a great step in the right direction.
"They will have to swim fast in the morning sessions. To make semi-finals and finals you have to swim really fast in the heats and that is something you have to learn quickly. It is going to be a good learning experience for them."
European senior medallist and Olympian Roberto Pavoni coaches Freeman at Leander and he is hoping she can show her potential in Kazan.
"I hope she gets what she hopes," he said. "My targets are always quite high, but I think realistic. Potentially for her, without putting too much pressure on her, I think she is going to be fighting for final positions at the European Juniors and potentially medals at the European Youth Olympics.
"My focus is just to try and get her as close to her full potential as possible.
"She is definitely one of the younger ones (at the European Junior Championships), which is fantastic for her as it will allow her to build up some experience at such a young age.
"She is only 15 and will be racing against 16 and 17 years. At that age it is quite a big gap so anything she learns is going to be really positive."
Freeman and Osrin will be the first of Leander's Great Britain internationals in action this summer, but they will be followed by Laura Stephens and Ben Proud, who will compete at the World Championships, and Reece Dunn, who will represent his country at the World Para-Swimming Championships.
And Pavoni believes there will be more stars coming through the Leander ranks soon.
"We have a fantastic squad and club here at Plymouth Leander," said Pavoni. "Robin, myself and the board and really trying to promote the pathway up from 'Junior Five', our youngest squad (ages 7-8), up to Laura Stephens, who has qualified for the World Championships. We are working really hard at pushing swimmers up the pathway."