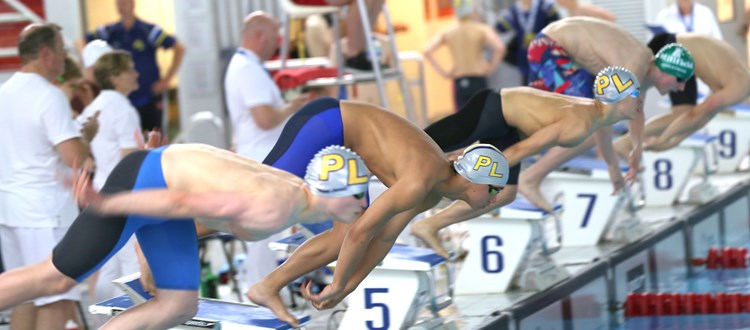 As one of the largest clubs in the United Kingdom, Plymouth Leander Swimming has always sought to be not only successful, but also unique. The success of the club has certainly been demonstrated in its swimmers' performances, from Olympians such as Ruta Meilutyte and Ben Proud, to personal bests and team victories in the age group categories. However, Plymouth Leander has a vision that extends beyond the pool deck. The club's partnership with Plymouth College demonstrates its dedication to academics, as well. And the club's annual PL National Qualifier competition has in recent years become more than just a swim meet, blending swimming with history by partnering with the Mayflower 400 project, a commemoration of the Pilgrims' voyage to the New World from Plymouth Harbour.
Most recently, Plymouth Leander Swimming has experienced quite a few changes in the structure of the club. A new head coach, Robin Armayan, has taken the helm to lead the swimming section. A new board has come together to represent the club and plan for the future. As the team prepares for the latest edition of the Plymouth Leander National Qualifier – dubbed the Southampton Cup in 2018 – from May 26-28, we caught up with Coach Robin Armayan and PL Chairman David Ellis to talk about the latest developments and the club's mission and vision going forward. -JG
Julia Galan: Plymouth Leander has gone through quite a few changes recently. Tell us what's new with the club lately!
David Ellis: There have been many changes over the last year. On the organizational front we had four new Board members join to support the then existing Board before last May's PL National Qualifier Harwich Cup. In September, three additional parents stepped forward to join the Board so that we now have seven and the previous Board members stepped down to make way for a new leading team.

Head Coach Robin Armayan
In terms of coaching, we have of course a new Head Coach, Robin Armayan. We have also appointed two new full-time coaches, former Olympians Roberto Pavoni and PL legend Antony James, who have joined us to work with our swimmers who are striving to reach the elite level. Through their experience and skills, they are helping us to raise performances and motivation and they are both great ambassadors for the Club and swimming in general. Because investment in junior swimming is key, we have appointed two new full-time coaches to work with our junior squads, which Robin can tell you about later. We have also launched new junior squads, aimed at 7-9 year old swimmers.
In terms of partnerships, we are working more closely with our key partners, Plymouth College, Plymouth City Council, Everyone Active and Plymouth University. Finally, we have also launched a brand new website and are much more engaged on social media.
Robin Armayan: I think the club has developed greatly over the last year: we have changed the structure of the club, making the role of junior development more obvious and at the heart of our coaching philosophy. The creation of our brand new Junior squad will hopefully help to improve the pathway between Everyone Active swimming lessons and Plymouth Leander. We have also implemented a junior position.
JG: How has the swim team changed and developed with Robin Armayan as your new head coach?
DE: Robin is an inspirational leader who leads by example. He has great commitment and pays attention to detail. However what really marks him out is his commitment to getting the best out of swimmers at all levels. He has recently been coaching some of the junior squads and the impact that he has had on them is profound. Only this week, he was acting as the starter at a Junior Splash aimed at giving those who are newest to the Club their first taste of competition.
RA: The new PL Board also has a great representation of our membership from Junior to High Performance squads, including Plymouth College swimmers. All categories of athletes are represented by the Board members and the decisions we have made reflect our philosophy that every member truly matters to us.
JG: What are the new goals and mission of Plymouth Leander going forward?
DE: We hope to consistently be the top club in the country. Through the quality of our coaching, we hope to be a club that helps all our swimmers achieve their full potential, whether they are a club swimmer or an Olympian. We hope to be a club that instills values which our swimmers can take forward into their future lives beyond swimming, while building lasting relationships.
RA: I think we have several goals and missions that can be classified as follows. In terms of high performance, we hope to develop swimmers through our pathway to optimize their potential and perform at the highest level of the sport. In terms of sport development, we hope to increase our involvement with the community and encourage more junior children to join us in the pool. And in terms of network development, we seek to ensure that we are offering our athletes the best package, including education, swimming, nutrition, physiotherapy, S&C, facilities, expertise and so forth.
JG: Are you still working closely with Plymouth College? Has the partnership developed?
DE: Plymouth College and Plymouth Leander have been in partnership for a number of years, a partnership that was initiated by our former head coach Jon Rudd. Plymouth College is a private,fee paying, school which – through its partnership with Plymouth Leander – has a successful swimming program. Robin and Roberto are, respectively, the Swimming Performance Director and Assistant Performance Director of Plymouth College, in addition to being Head Coach and Deputy Head Coach of Plymouth Leander.
Plymouth College is able to attract student-swimmers, both from within the UK and internationally. They can then progress their swimming career while receiving an excellent education at the same time, and the school day is adapted to suit their program. All College swimmers swim for Plymouth Leander. The partnership enables the swimmers at both Club and College-level to benefit from greater resources – coaches and access to an Olympic pool, as well as expertise appropriate to their competitive level.
Over the last few months we have been working together with the College to deepen our relationship and we hope to see the benefits of that going forward.
RA: The Head Coach of PL, the Assistant Head Coach, and the S&C staff are employed by Plymouth College, so PL and Plymouth College work closely together on a daily basis. Plymouth College also provides workshops centered around nutrition and sport psychology to help PL athletes.
JG: What are some of the most recent accomplishments of the team?
PL Swimmers support several of their teammates who qualified for the Commonwealth Games
RA: Twelve of our top swimmers competed at the Commonwealth Games, representing six nations. Nine of our young swimmers have been selected for the Devon Talent Camp, which shows good strength in depth. Laura Stephens came in 2nd in the 200m fly at the British Championships and Tom Fannon placed third in the 50m freestyle.
Most recently, Plymouth Leander swimmers put on an impressive display to claim victory in the Arena Swimming League National Cup Final. After three years as runners up, the Blue Army led from start to finish to win the title for the 8th time. With a total of 427 points, PL ended the gala with the biggest score of any Premier League winner in more than a decade.
It's hard to put into words the pride I feel for PL. It's a team that's made up of not only some extra-ordinary athletes but also the coaching staff, the volunteers, the officials, the parents and the board without whom this would not have been possible. This has been a culmination of the whole year; this has been one of our most successful seasons and the swimming on show made me incredibly proud. This victory is a very special one to all of us who have worked so hard to improve our swimming programme. Seeing the swimmers have fun as a team made all the hard work worthwhile. Swimming is such an individual sport, so competitions like the Arena League are really important.
DE: We're very proud of the team – both coaches and swimmers. It's a victory not just for those who competed on the day but for the whole club. We appreciate our key partners: Plymouth College, Plymouth City Council and Everyone Active – as well as our sponsors Arena – for their support. For a new coaching team, and for us as a new board, this is an amazing beginning.
JG: Who else is on the coaching team, and what are some of their attributes?
PL is benefiting from a new coaching team
RA: Roberto Pavoni is a former Olympian for Great Britain and former head coach of Loughborough Swim Club. Roberto is a great addition to our team. He looks after age group and youth swimmers at the national level and prepares them to take the next step in their career.
Neil Edwards has been the head of our regional programme and has also coached age group swimmers at the national level for the last two years. He has a great knowledge of the sport and a sharp mind when it comes to race analysis.
Antony James is a former PL Olympian for Great Britain. AJ coaches youth swimmers at the national level. One of his swimmers was selected for the Commonwealth Games and some achieved finals at the British Championships in March.
Stephan Lokhorst has been coaching age group swimmers at the regional level for the last couple of years. Stephan is very passionate about swimming and has a very good understanding of training principles in swimming.
Chris Lee is a former PL swimmer who looks after swimmers at the county and regional level. Chris is respected by all of his swimmers and has been doing a tremendous job motivating his athletes and helping them take the next step in their swimming development.
Dan Dew has recently been appointed as Head of our Junior programme. Dan is very passionate about age group development and we have enjoyed welcoming him to Plymouth.
Finally, Ellie Kerslake is in charge of three out of our 5 junior squads. She has a great understanding of the requirements from learn to swim all the way to the club programme. She has been working actively to recruit our future stars. Ellie has a unique place in our programme and her position is crucial to the long term development of the club.
JG: How is the Plymouth Leander Board structured now? Does each individual have different responsibilities for the club?
DE: As I said, we now have seven Board members who dedicate a lot of time to the club. We have changed the constitution to make the Club more democratic and transparent. The Board is more diverse as Robin mentioned earlier. We can use the skills gained from our day jobs for the benefit of the Club. In addition to the Club's traditional roles, we now have different directors who are responsible for marketing and PR, new member recruitment, organizing competitions (we run five competitions per year), and coordinating and training officials and volunteers. We are also looking at developing our social side and we have a team of parents who are taking that forward.
JG: Who are your main sponsors and partners?
DE: Our key partners are of course Plymouth College, Plymouth City Council, Everyone Active (who run the Plymouth Life Centre where we swim) and Plymouth University. We were also recently approached by Arena to be our main sponsor and kit supplier. Arena also sponsors Adam Peaty and other international elite swimmers and international teams. We are currently transitioning our kit over to Arena, which is a major task.
JG: How are you preparing for the Southampton Cup/PL National Qualifier this coming May? What are your goals for the competition?
RA: Different squads will prepare differently for this meet. For some it will be a chance to improve their rankings, for others it will simply be a competition to train the racing process. However, every swimmer, coach, parent and board member take this competition very seriously and support it. It is a great opportunity for us assess the swimmers' progress across the club and have our top swimmers inspire the young generations.
DE: Organization-wise, preparations for this year's meet are well under way. We hope to have a record number of swimmers competing with clubs from around the country swimming in Plymouth for the first time. The immediate goals are that the meet runs successfully and smoothly, that the swimmers have a fun time – that's what it all about – that there is some fast swimming and that swimmers achieve their goals and want to come back.
The Plymouth Leander National Qualifier is part of the Mayflower 400 Project. Pictured is last year's Harwich Cup
The Mayflower 400 project is an opportunity to remember and commemorate our heritage. Last year's meet was called the Harwich Cup to mark the birthplace of the Mayflower and our remaining meets were badged the Harwich Cup series. This year will be called the Southampton Cup – Southampton was the rendezvous point with the Speedwell – and again going forward, our meets this year will be badged the Southampton Cup series. The Mayflower 400 sports team will be in attendance and our partnership with them is important both in the context of the Mayflower 400 project and our partnership with Plymouth City Council.
Next year's events will be badged the Leiden Cup, and we'd be happy to work with any Dutch clubs who want to come to Plymouth. In 2020, the competition will be called either the Mayflower Cup or the Atlantic Cup . Our dream is to host, as part of the weekend, an international gala comprising teams from Plymouth and the UK, Holland, and club or state teams from the United States. We hope to start contacting teams in Holland and the USA shortly as there will be a lot to organize but if there are any club officials reading this who are interested in coming over, we'd love to hear from you. Apart from the swimming, it will be a great trip and the chance to visit the UK and Plymouth at a special time.
Thanks for your time, David and Robin! We are looking forward to another great competition from May 26-28 at the Southampton Cup!