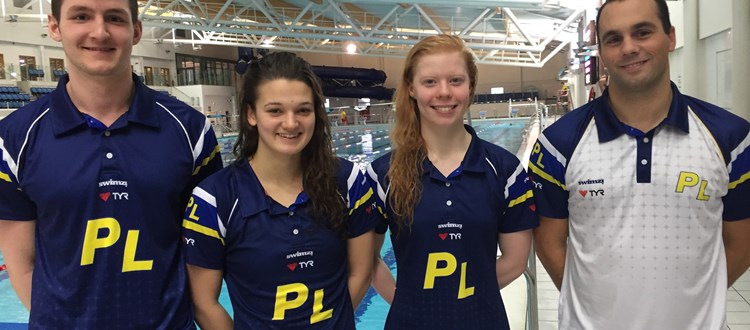 They may have just arrived back from the Gold Coast but this weekend (Sunday 22nd) Plymouth Leander's top swimmers will do their bit for their club.. as it bids for glory in the Arena Swimming League's National Final.
PL's Team England swimmers Tom Fannon, Jessica Jackson and Laura Stephens with Plymouth Leander's Head Coach Robin Armayan.
Almost 50 athletes from PL will travel to Cardiff for Sunday's final - among them Team England's Tom Fannon, Laura Stephens and Jess Jackson who have only this week returned from the Commonwealth Games . The youngest to be selected are James Rostron, who's ten, and eleven year old Blythe Kinsman.
Plymouth Leander, now sponsored by Arena, were runners up in the prestigious national competition last year - this time they hope to go one better.
They showed great form through qualifying and will take lane 4 in the final against defending champions Millfield as well as Stockport Metro, Guildford City, Hatfield, City of Oxford, Team Ipswich, Wycombe District Swimming Club, City of Peterborough and City of Derby.
Head Coach Robin Armayan said "It's a great privilege for the Blue Army to make the National Arenal League final again this year and compete against some of the best clubs in the country.
"It will be a fantastic opportunity for the swimmers to race as part of a team and represent PL to the best of their abilities," he added. "We expect a tough competition, packed with fast races and lots of fun!"
Plymouth Leander's chairman David Ellis said "The Arena League is the country's major club competition and gives our athletes across the age groups the opportunity to test themselves against swimmers they wouldn't ordinarily compete against. Obviously we'd like to return with the trophy again but, most importantly, we want our swimmers to enjoy the experience. "