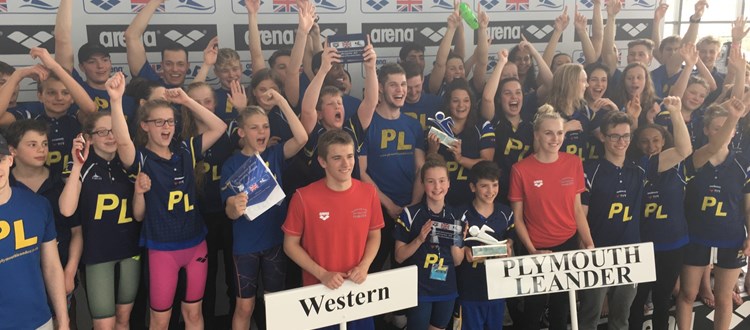 National Champions! - the Blue Army win the National Arena Swimming League Cup Final
Plymouth Leander swimmers put on an impressive display to claim victory in the Arena Swimming League National Cup Final yesterday (Sunday). After three years as runners up, the Blue Army led from start to finish to win the title for the 8th time.
With a total of 427 points, PL ended the gala with the biggest score of any Premier League winner in more than a decade. They were a massive 83 points clear of runners up Guildford City with defending champions Millfield third.
  
Almost fifty of the club's top athletes - aged 10 upwards - travelled to Cardiff International Pool for the final...among them Tom Fannon, Laura Stephens and Jessica Jackson who had just arrived back in the country after representing Team England at the Commonwealth Games on the Gold Coast.
Top swimmer awards also went to Plymouth Leander's Finn Broekhoven (11 and under age group); Hubert Gdaniec (13 and under) and Honey Osrin (15 and under).
The success comes in Head Coach Robin Armayan's first full season in charge. He is delighted with the performance. "It's hard to put into words the pride I feel for PL, " he said. "It's a team that's made up of not only some extra-ordinary athletes but also the coaching staff, the volunteers, the officials, the parents and the board without whom this would not have been possible," he added. "This has been a culmination of the whole year; this has been one of our most successful seasons and the swimming on show today made me incredibly proud. 
"This victory is a very special one to all of us who have worked so hard to improve our swimming programme. Seeing the swimmers have fun as a team made all the hard work worthwhile. Swimming is such an individual sport, so competitions like the Arena League are really important" Club Chairman David Ellis is equally elated.  "We're very proud of the team - both coaches and swimmers," he said. "It's a victory not just for those who competed on the day but for the whole club. We'd like to thank our key partners: Plymouth College, Plymouth City Council and Everyone Active - as well as our sponsors Arena - for their support. For a new coaching team, and for us as a new board, this is an amazing beginning."