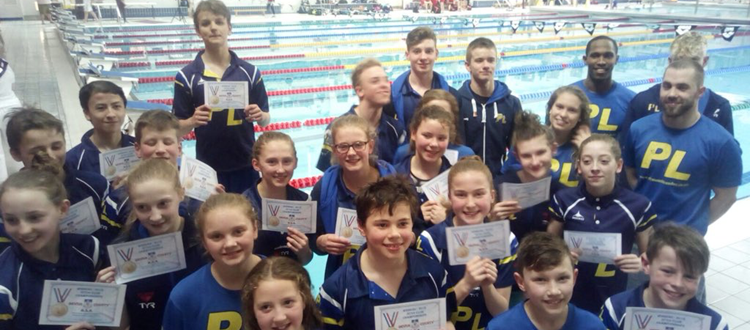 After a snowy few days and lots of training sessions cancelled due to the weather, the #Bluearmy were in fine form as they convincingly retained their Devon Interclub title. (March 4th)
The emphasis of the gala was on enjoyment but it also proved to be a great meet for PL swimmers - who won 26 out of the 38 races; with top 3 finishes in all but one event.
Coach Neil Edwards described it as a "hugely successful" gala for all of our swimmers. "They looked relaxed in their approach, yet confident in how they needed to swim," he said. "The skills on show from all ages were exceptional and really stood out as the cream of the crop."
Neil and fellow coach Chris Lee highlighted their outstanding swims of the championships during the team de-brief.
The swim that stood out for Chris was the 100m breaststroke swim from Lucia Grant. Lucia proved too strong for her opposition with a huge advantage coming from her underwater phase on every wall, where she made 10m underwater each time. A powerful swim from start to finish resulted in a PB and first place for Lucia.
Two swims stood out for Neil across the afternoon. Firstly, Connor Robinson was asked to step in and swim the 100 butterfly, even though he already had another individual event to do and he stepped up and delivered for PL. His strength in the 2nd 50, when others around him were beginning to fade is what set him apart in the race. The second standout swim was from Lucy Armitage in the 100m freestyle. Whilst Lucy turned 2nd at the 50m mark, she did not seem phased and didn't panic. Coming off the final turn Lucy seemed to find another gear and blew past the opposition with an extremely powerful last 25 to secure the victory.
"The extra race practise seemed to be a good thing for all the PL swimmers and the relaxed atmosphere certainly contributed to some fast swimming and happy swimmers," said Neil.
The victory confirms Plymouth Leander as the top ranked club in Devon.