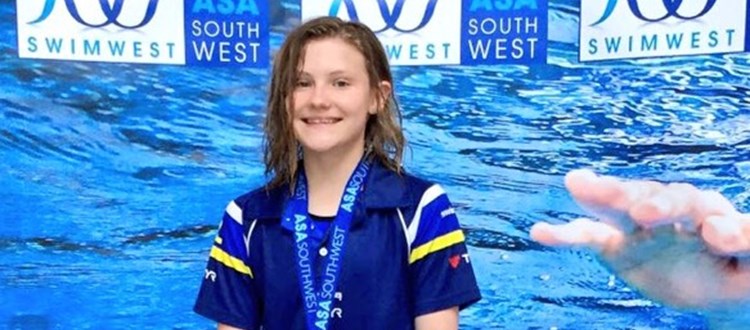 One of the undoubted stars was four times regional champion 12 year old Isobel Bryant (photo attached) who won an impressive eight of those medals across a range of strokes and distances.
Izzy took gold in the 200 metres individual medley, 100m breaststroke, 200m breaststroke and 50m backstroke. The Plymouth College pupil also won silver in the 50m breaststroke and 200m backstroke  as well as bronze in the 100m backstroke and 800m freestyle - and was named top swimmer in her age group.
Plymouth Leander's head coach Robin Armayan says she had an outstanding championship. "Izzy did really well and she represents, among other swimmers, the future of PL," he said.  "It is very encouraging and inspiring for our young swimmers to see her compete in many different events/strokes and do so in style."
The club's Head of Juniors, Neil Edwards, was also full of praise for the youngster. 
"Izzy has shown she is a diverse swimmer, competing in all events ranging from 50m to 800m and across all strokes," he said. "She is a swimmer who competes with great determination but with incredibly high skill levels. She also has an infectious, bubbly personality and is a valued member of our squad...with a great future ahead of her."  
Other multiple medallists included, in the same age group, 12 year old Sam Ellis. The Plymstock School pupil dominated the butterfly events - taking gold in both the 100m and 200m and silver in the 50m fly. Sam also won bronze in the 50m freestyle.
PL's Lana Broekhoven, another pupil at Plymouth College, was the south west 100m and 200m breaststroke champion in the 14 year old age group and took silver in the 200m individual medley. 
Another 14 year old, Honey Osrin swam to gold in the 200 IM while also taking silver in the 50m butterfly and bronze in the 400m freestyle. There was gold for 13 year old Oriana Noel in the same event.
Hubert Gdaniec, who's 13, picked up gold in the boy's 1500m freestyle and 200m backstroke and silver in the 100m back. While there were three bronze medals for 14 year old Salvador Gordo - also in the 100 and 200m backstroke, as well as the 100m freestyle.
Ella Bardgett, 13, picked up five silvers - in the 50m, 100m, 200m and 400m freestyle as well as the 50m backstroke.
Thirteen year old David O'Loughlin raced the bronze in the 50m backstroke and 100m butterfly. And Ethan Philipson (13) picked up a silver in the 200m butterfly.
Neil Edwards is delighted with the team's performance.  "It is great to see our young swimmers with such a range of strengths and swimming in a manner which points towards long term success" he said.