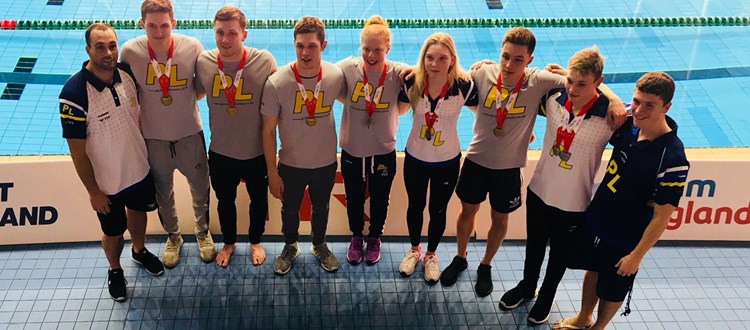 Last night's PL medallists with Head Coach Robin Armayan (far left) pictured left to right Tom Fannon, Perry Gardner, Reece Dunn, Laura Stephens, Honey Osrin, Adam Chillingworth, Reid Jones and Plymouth Leander's Assistant Head Coach Roberto Pavoni.
Laura Stephens won gold in the 200m butterfly while Tom Fannon took the 50m freestyle title. There was also victory for the men's 400m medley relay team.
It brought to 5 the number of national titles won by the club's swimmers at the meet in Sheffield.
Laura and Tom have double cause to celebrate after both swam Team England consideration times for the Commonwealth Games in Australia.
Eighteen year old Laura, a student at the University of Plymouth, swam a personal best time of 2.09.32 to put her in contention for a place in the England team travelling to the Gold Coast in April.
"I'm over the moon", she said. "Training has been so tough. We've really tried to step things up this season. I've been stuck on that 2.10 barrier for quite a long time now so to finally drop under it is just such an amazing feeling," Laura told BBC Sport.
"It was me versus the clock. I knew it was going to be that and I'm so happy".
Last night's success added to the 100m butterfly title she won earlier in the week.
PL Head Coach Robin Armayan said "Laura was our first finalist of the evening and she didn't disappoint. After a year and a half of trying hard to break the 2.10 barrier, after thousands of kilometres and many failures, she finally achieved her goal. Getting her Commonwealth time with a life time best was a credit to her hard work, commitment and resilience."
In the final of the men's 50m freestyle, Tom Fannon, 19, took control early on and was never going to be caught as he clocked 22.10 to take gold. He too will now be hoping for selection alongside club mate and world champion Ben Proud when Team England announces its Commonwealth Games squad later this week.
"Tom has worked hard on each element of his stroke," said Armayan. "It paid off and everything came together when it really mattered."
Fannon then rounded the evening off anchoring the men's 400m medley relay team as they took gold and became English national champions. Fannon extended Plymouth Leander's lead to a clear 5 seconds after great swims from Perry Gardner (backstroke), Adam Chillingworth (breaststroke) and Reece Dunn (butterfly).
There was also a junior silver and personal best time for PL's youngest finalist 14 year old Plymouth College student Honey Osrin who won the senior "B" final of 50m backstroke in 29.75" - setting a new South African national age group record.
Reid Jones, meanwhile, took two junior silver medals - in the 200m inpidual medley and the 50m freestyle.
It was a golden night in the pool that capped off an amazing week for the Blue Army. The club also won gold in the men's 4x100m freestyle relay (Reece Dunn, James Watson, Freddy Clampett and Tom Fannon), while on Saturday Jess Jackson took bronze in the women's 100m freestyle.
Head coach Robin Armayan couldn't be happier. "I want to say a big thank you to my athletes who trusted me to change their programme and accepted the decision to do things differently," he said. "These athletes really are proving that the whole of the PL team are on track to achieve at every level. Last night's results round off a week or outstanding swimming and results. I am extremely proud of each and every one of our swimmers."
Also this weekend Plymouth Leander's Ben Proud, who now trains with James Gibson in Turkey but still swims for the club, was winning medals at the European Short Course Championships in Copenhagen. The 2017 world champion took bronze in the 50m fly and silver in the 50m freestyle.